Company profile
DHL Express is one of the largest players in the mail order business in Luxembourg. Its core business is the delivery of parcels in a wide variety of areas.
The company currently employs 110 people in the Contern business park. The daily delivery tours of 40 to 250 km throughout the country are organised internally. The main building houses the administrative area and the logistics hall for loading and unloading the vehicles.
Idea
Decarbonisation of the vehicle fleet
The DHL Group is pursuing very ambitious objectives on an international level to decarbonise the entire company and position itself for the future. As part of the GoGreen Plus initiative, the Group is working to achieve these goals. The large vehicle fleet and the many kilometres covered for deliveries represent significant potential for optimisation.
Design
Cooperation with a leasing company and car manufacturers
DHL works with a leasing company and the car manufacturers Ford and Mercedes for the provision of their vans. These vehicles were specially modified by the above-mentioned manufacturers to meet the company's specific requirements.
By using a load management system, a solution was found to optimise the use of the limited electrical connected load that is available. The 23 vehicles have to be charged in the evenings and at night so that deliveries can be made during the day without additional charging times.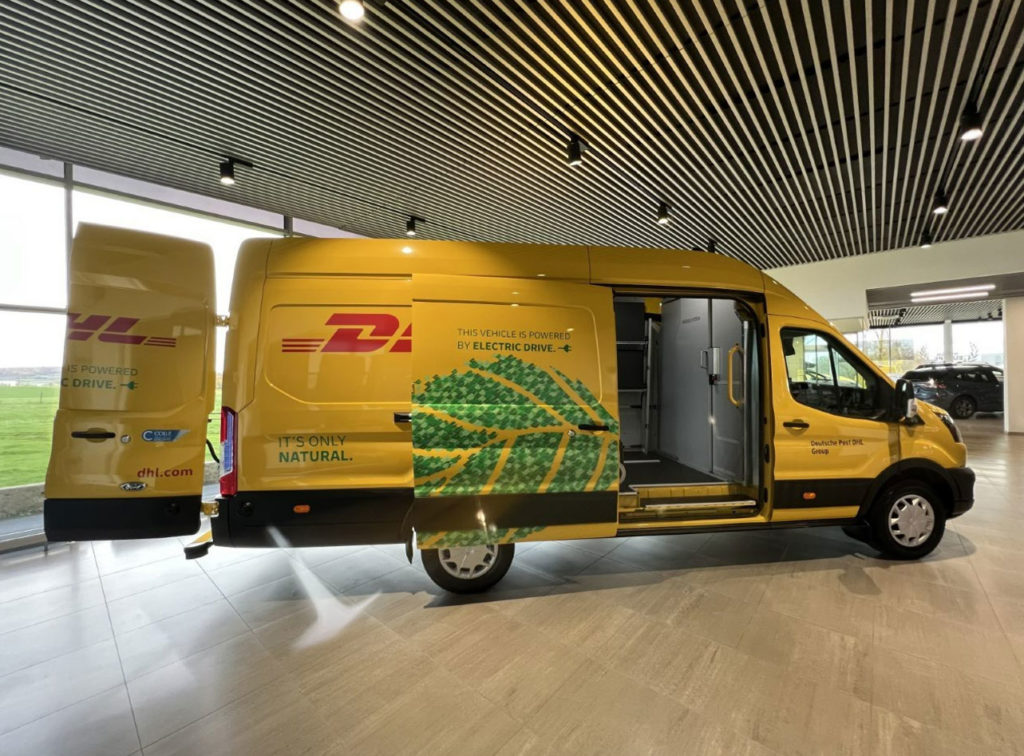 Implementation
Integration of electromobility and adaptation of logistical procedures
To prepare for the deployment of new electric vehicles in 2021, charging stations were installed at the company's depots. Over a period of about nine months, all vans with combustion engines were replaced by electrically powered vans. In a final step, the employees were trained on how to properly handle these new vehicles.
The challenges of the project were, on the one hand, the sometimes very long delivery times of the new vehicles (the originally planned rapid implementation of the project was therefore not feasible) and, on the other hand, controlling the maximum electrical connected load in such a way that the charging of the vehicles could be guaranteed on a daily basis.
Results
A photovoltaic system for charging the vehicles
The company is satisfied about the successful completion of the project to decarbonise their delivery fleet. This project will be further complemented by other initiatives:
installation of a photovoltaic system at the premises in Contern to offset the consumption of the electric vehicle fleet,
electrification of the management vehicle fleet,
launch of an internal communication campaign to encourage employees to switch to electric cars.