The fourth session of the Klimapakt fir Betriber roadshow took place in the friendly, aesthetic atmosphere of the Burelbach Landschafts- und Gartendesign showroom. The event was organised by Klima-Agence with support from the local partner Natur- und Geopark Mëllerdall and Luxinnovation GIE
The event began with introductions by Klima-Agence and the municipality of Echternach, followed by a presentation of the Klimapakt fir Betriber tools by experts from Luxinnovation, House of Sustainability and Klima-Agence.
Local companies then shared their practical experiences of decarbonisation and energy transition.
Eurocamping Nommerlayen highlighted its charging infrastructure for electric vehicles, including the construction of an electricity transformer and the use of solar thermal energy and a heat pump to heat its swimming pool.
Mondo del caffe shared its experience of installing its solar power plant, a success despite initial difficulties with the building stability. The company also highlighted its commitment to sustainability in coffee supply chains.
Burelbach Landschafts- und Gartendesign rounded off the presentations with a tour of its new premises, subsidised as a global project by the Ministry of Economy. They also presented their future photovoltaic and e-mobility projects.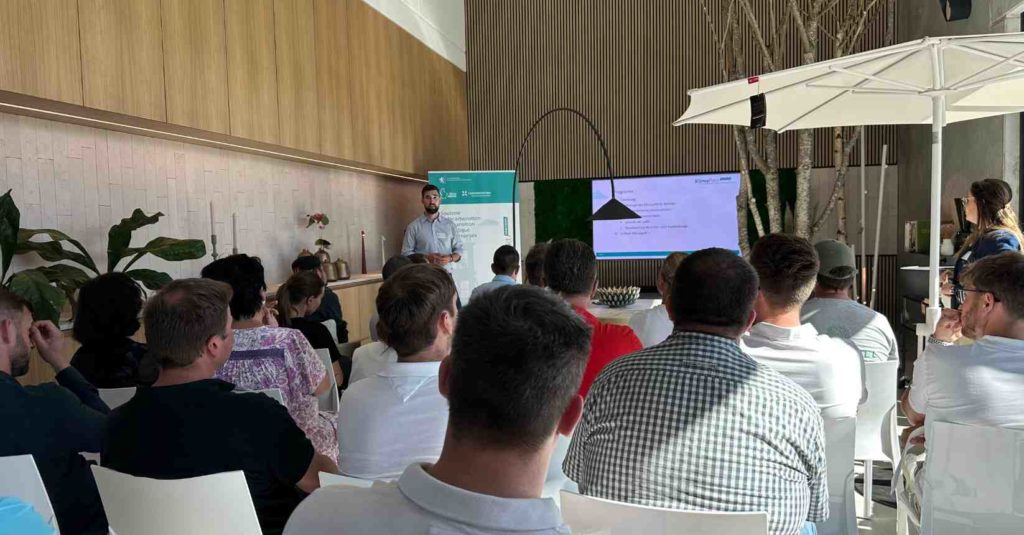 Finally, a discussion session gave participants the opportunity to talk directly to experts from the Fit4 Sustainability and SME-Packages programmes.